FCW Florida Heavyweight Championship
Details
Date won
June 1, 2008
Promotion
The Cave Wrestling
Date introduced
May 24, 2008

Statistics
Most reigns
All former and current champions (1 reign)
First champion(s)
Juan
Longest reign
Gidget (22 days)
Shortest reign
Nero (Less than a day)
Heaviest champion
Juan (258 lb (117 kg))
Lightest champion
Jerry Static (165 lb (75 kg))
The TCW International Heavyweight Championship is a professional wrestling heavyweight championship owned by the developmental territory of WWE for Extreme (WWEFE, or just WWE), The Cave Wrestling (TCW); it is contested for in their heavyweight division. The championship was created and debuted on May 24, 2008 at a TCW's premier episode of Starlight.
| | |
| --- | --- |
| # | Order in reign history |
| Reign | The reign number for the specific set of wrestlers listed |
| Event | The event promoted by the respective promotion in which the titles were won |
| — | Used for vacated reigns in order to not count it as an official reign |
| + | Indicates the current reign is changing daily. |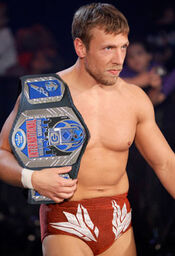 #
Wrestlers
Reign
Date
Days
held
Location
Event
Notes

1

Juan

1

May 24, 2008

8
Toronto, Ontario, Canada
Starlight
Juan defeated Blaze to win the vacant championship.

2

Jerry Static

1

June 1, 2008

6
Toronto, Ontario, Canada
WWE Superstars
This was a Triple Threat match also involving Midas.

3

Gidget

1

June 7, 2008

22
Toronto, Ontario, Canada
Starlight
This was a Ladder match.

4

Nero

1

June 29, 2008

0
Toronto, Ontario, Canada
WWE Superstars
The title was vacated that night when The Cave closed.
List of combined reigns
Edit
Ad blocker interference detected!
Wikia is a free-to-use site that makes money from advertising. We have a modified experience for viewers using ad blockers

Wikia is not accessible if you've made further modifications. Remove the custom ad blocker rule(s) and the page will load as expected.